Betty Crocker! Her name conjures up cookbooks, chocolate chip cookie recipes, cooking tips, and our moms and grandmothers, busy in the kitchen, whipping up something wonderfully homemade for after school snacks or evening meals when everyone sat around the table to discuss their day.

Mid century hostesses always turned to Betty when hosting a party,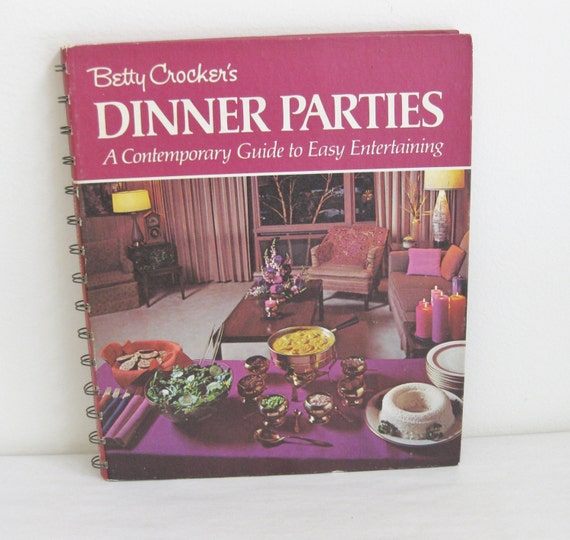 Betty Crocker's Dinner Party Cookbook
We've known this woman all our lives, she's lived in our homes and has guided many a home cook for generations, yet how did she get to be such an icon and who is the real Betty Crocker?
Betty started out as an idea born from the advertising department of the Washburn Crosby Company in the early 1920s as a way to personalize responses when they would receive questions about their products. She was not a real person, but was a character who was meant to be knowledgeable and caring to symbolize the American housewife.
Her first name, Betty, was chosen because it sounded friendly and folksy and her last name, Crocker, was to honor William G. Crocker, a retired director of the company. A contest was held among Washburn Crosby Company to find the "right" Betty signature, which was won by a company secretary, of which a variation of that signature is still used today.
Washburn Crosby Company eventually merged with 5 other milling companies to become General Mills and Betty was on her way straight into the future!
* In 1924 Betty had her own radio show titled The Betty Crocker Cooking School Of The Air.
* Beginning in 1930, softbound Betty Crocker cookbooks were published.
* In 1945 Fortune Magazine named Betty the second most important woman in America after Eleanor Roosevelt.
* In 1949 Betty moved to television where she appeared in the first color commercial produced by CBS.
*At the height of her popularity in the 1940s, Betty received approximately 5,000 letters daily of which she provided money saving recipes, rationing tips and messages of hope during the Great Depression and World War II.
* In 1950 Betty's Picture Cookbook known as "Big Red" was published and her influence continued to grow with each passing year. She now has over 200 products that bear her name, thousands of recipe booklets and cookbooks, a website and newspaper column.
Always a good idea to keep a recipe handy: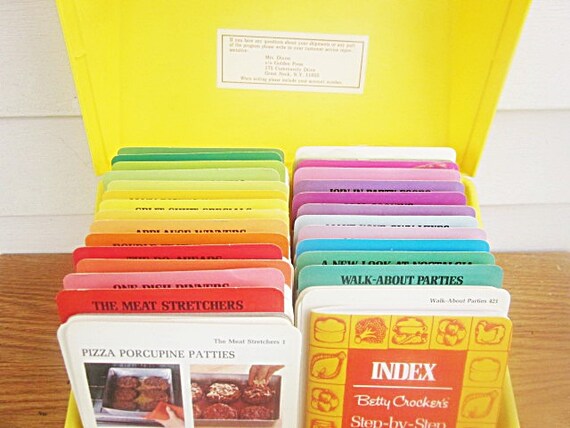 Through the years Betty's look has changed very little and is meant to be the combination of 75 real women of different ages and backgrounds.
Although much has changed since Betty began her stint in the kitchen, still much as stayed the same as good recipes, helpful kitchen tips and quality products never go out of style. But of course, Betty always knew that!
(Should you be interested in more Betty history, I would recommend the book,
Finding Betty Crocker, The Secret Life Of America's First Lady Of Food by Susan Marks).
written by Amy owner of the Etsyshops DottieDigsVintage & MrDottieDigsVintage