Coffee Klatch Cuties
While "Freebie" or "Gimmie" Coffee Cups serve their purpose and are quite functional, enjoying your favorite hot beverage from a Vintage Cup or Mug makes your experience so much more pleasurable!
I have a collection of Vintage and Retro Coffee "Singles" and love to switch them out daily when having my morning cup!
Vintage mugs are an easy and inexpensive way to freshen and liven your kitchen at home or your desk at work.
They are such conversation starters too! Before you reach for that generic A+ Insurance Cup one more time, consider some of these lovelies.



Holt Howard is famous for their Mod Coffee Mug designs and patterns. This elegant set from
Pyrex is one of those brands that stand the test of time! Sturdy and beautiful, these sweet floral cups from
DottieDigsVintage
are a sure-fire winner!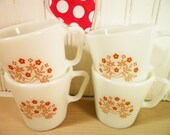 This Fire King duo from
CheshiresFantasy
is a real eye-opener! Straight from the 60's with today's popular Ombre design, this sweet pair will definitely turn heads.
Drip Glaze Mugs were a '70's staple. This little doll from
WeeLambieVintage
is a dreamy example.
In the mood for a bit of "Character" in your Cup? How about these Irish Coffee Mugs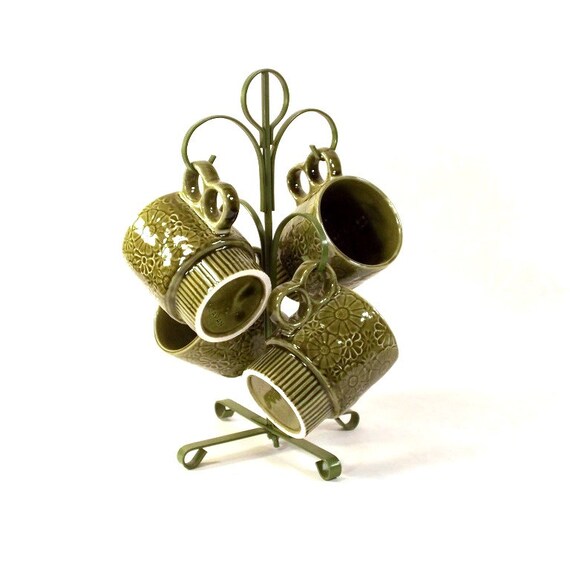 Vintage Space-Saving selection in funky Avocado Green from
VintiquesandMore
. Super solution to display all your Retro Mugs!!
All of these wonderful cups are available from the members of the Vintage Vertigo Team on Etsy.
The author of this blog post is Renee of LucyBettyNJune whose Etsy shop focuses on Retro Kitchen Items and much more.